EXTRA! Before we get to the business at hand… check out and sign up for The Local Beet farm dinner next weekend (but you have to sign up by this weekend). It couldn't be a more perfect time to eat stuff straight off the farm, on the farm. Check out the details here.
Got a nice fan email from a fellow named Kevin Speck in Japan:
Just a quick note to say I get your podcasts religiously here in Japan and although I watch many food podcasts, in English and local things in Japanese, most of them seem to `miss the point of food as I would like to see it` and that point being,  I really love it when people have that ability to take us back to the origin of the food morsel that we put into our mouths and make us think about that.
Although I work in the metals industry I really love food and although I did a 6 month culinary school night class I don`t have the dedication to detail or the ability to stand on my feet for 15 hours a day non-stop to be a professional in the food industry. So I content myself with night-time baking and bento box preparation and watching your show.
P.S : My partner here in Japan (she is Japanese), doesn`t understand why Westerners would be interested in a show about pigs or fruit farmers. But we live in a country where people order their meals out of tanks of live fish and beef packets in supermarkets have a cartoon image of a smiling cow showing you the part of him/her that you are about to eat. hehe.
O.K … longer than a quick note I know. But thanks for the podcasts. There are people all over the world who appreciate them.
Cheers
Kevin
Thanks for the nice words, glad you enjoy them!  But you know, Japan isn't the only place where cartoon animals happily give themselves for food.  Well, not entirely happily in this case (from Carnitas Uruapan; photo by Gary Wiviott from the long ago Short-Notice-a-Thon):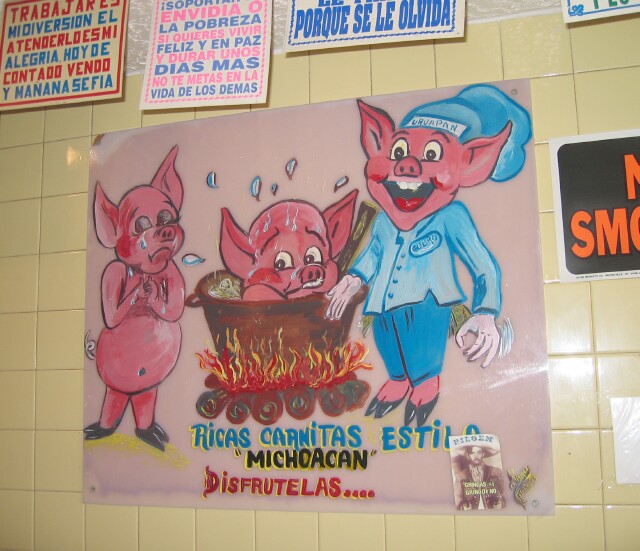 * * *
Meanwhile… more than a year ago, when I had no idea what I was doing and I was shooting my second podcast in a Chinese restaurant, the woman who was planning to take over the restaurant with her siblings, Kelly Cheng, told me about their plans for moving into a bigger, better space around the corner.
It seemed as far off as, well, 12 completed podcasts, but that eventually happened and now Sun Wah is about to make that move. Their last day in the old space will be the 15th (Tuesday); they should reopen around the end of the month. Then the only place the old Sun Wah will exist will be… in Sky Full of Bacon #2:

Sky Full of Bacon 02: Duck School from Michael Gebert on Vimeo.